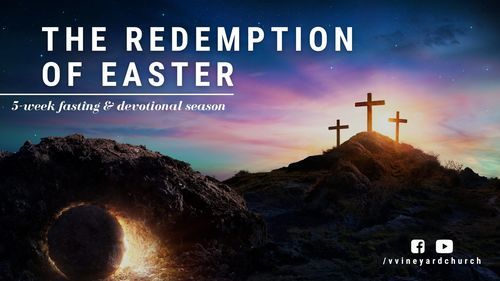 Season of Preparation for Easter
Monday, 3/1- Friday, 4/2
We are getting ready to start a corporate fast and a time to reflect on the redemption offered by the death and resurrection of Jesus. Join us as we do three things:
1. Participate in the daily weekday devotional on Facebook (
vvinfo.org/FB
) and YouTube (
vvinfo.org/YouTube
) at 9 AM.
2. Plan on fasting for five weeks (3/1-4/2). Abstain from eating certain foods, fast from food certain days/times, or take time off of social media. Use the time and focus you would regularly use to enjoy these activities to instead feast on Jesus while you fast.
3. Make plans to join us on Good Friday, April 2nd, at 7 PM, to recognize our redemption by the sacrifice of Jesus on the cross.
To download the fasting brochure click below: